The Basics: Born in 1828 in Ukraine; died June 5, 1905, in Poland; beatified June 9, 2013; feast day, June 5. Woman religious.
The Story: Politics may have gotten in the way of Malgorzata's vocation, but oppression couldn't stop her from doing the Lord's work in a variety of ways. She was born of Polish parents just before Poles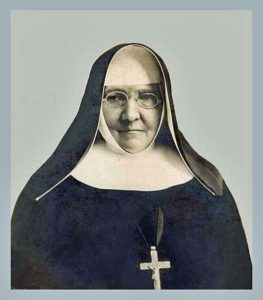 failed to regain independence in a struggle against the Russians. Although she felt a call to religious life from an early age, the anti-Catholic political climate meant that could not happen. When she was nearly forty, Malgorzata chose to deepen her faith by making a pilgrimage to the Holy Land. She stayed away for nearly three years, including a stint in Loreto, Italy, caring for pilgrims who were poor, older or sick.
Shortly after returning home, Malgorzata met Honorat Kozminski, a priest (who also has been beatified) who became her confessor and encouraged her to continue the work she had done while abroad. She began by taking women into her apartment when she was about forty-eight; as the ministry grew with more women both helping and using the services, what would become the Daughters of the Sorrowful Mother of God or Seraphic Sisters was founded in 1881. The women religious initially did their work wearing street clothes as opposed to habits due to religious persecution, but didn't let that stop them from establishing an orphanage, trade school, and a facility for infirm men. Malgorzata served as superior general until the year before her death.
What We Can Learn from Malgorzata: Sometimes, the world seems to conspire against us saying yes to the Lord. But if we trust and obey, He will find a way to use our gifts. There's no need to be despondent or discouraged.
To Learn More About Malgorzata: Check out the site for Malgorzata's congregation, the Seraphic Sisters.
To Learn More About Other Women Saints and Blesseds: Come back next week, or consider buying my book, Sisterhood of Saints: Daily Guidance and Inspiration.