Note: On Tuesdays and some Sundays, you can find me at Your Daily Tripod, owned by my friend TonyD. A longer version of the post below appears there.
So here we are, nearly two weeks past Ash Wednesday. How's it going so far? Staying away from the wine or chocolate? Still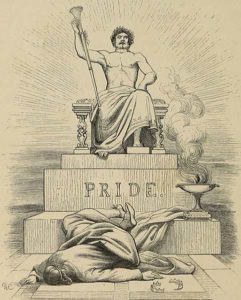 off social media? Setting aside for the Bishop's Lenten Appeal the money you would have spent on coffee? All laudable things, to be sure. If you've been lacking in the discipline department, pray for help in getting back on course. If you haven't slipped, give thanks and keep on keeping on.
Today's lectionary readings from Psalm 50 and Matthew 23 remind us that Lent is about more than stuff, whether it's doing more or having less. It's about living our faith, day in and day out, every day, not just for these forty days. It's about more than holding ourselves up as shining examples of Christianity, not patting ourselves on the back for the quantity or quality of our sacrifice; indeed, exalting ourselves will only lead to being humbled.
Lent is also about setting aside the comments we receive from others who are in awe of anyone who can live without a smart phone or dedicate an hour a week to adoration or be home for dinner with the family every night for six weeks. It's about the rigor we attempt to find and live past Easter as we contemplate the greatest gift we will ever receive. It's about setting things and ourselves right—and, when we do, turning any praise over to Him who deserves it all.