The Basics: Born April 23, 1788, in Italy; died February 17, 1857, in Italy; beatified September 17, 2016; feast day, February 17. Wife, mother, catechist.
The Story: It was not a life full of promise early on. As a child, Elisabetta contracted smallpox, and was never again able to raise her arms over her head. Despite this disability, she had by all accounts a happy marriage for eighteen years that resulted in seven children, five of whom lived past infancy.
Six years after her husband's death, Elisabetta and a priest friend decided to embark on a pilgrimage to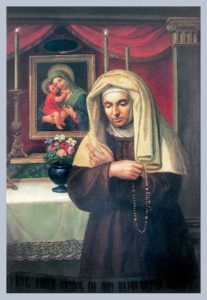 the Holy Land. But the priest did not have the necessary documentation, so the pair eventually ended up in Rome.  It was determined Elisabetta's health would prevent her from making the lengthy voyage back to her family on the island of Sardinia, and she would spend her remaining twenty-five years in the Eternal City, which may seem odd to us today as some of her children were still relatively young.
It was in Rome that Elisabetta, always a devoted Catholic, hit her stride. She met St. Vincenzo Pallotti, who served as her spiritual director for eighteen years and was the founder of the Union of Catholic Apostolate, which calls for people to work together on behalf of the Lord and each other. Elisabetta, though illiterate herself, taught catechism to others. She also served as a housekeeper to a priest who would become a cardinal. She went to Mass daily, was a regular at Eucharistic adoration, and helped the poor and needy without rest. Her sancity was so widely regarded that the cause for her beatification began within four months of her death.
Elisabetta's Wisdom: "My God, I love you above all things."
What We Can Learn from Elisabetta: It would have been easy for Elisabetta to wallow in self-pity or become bitter or despondent over her health issues. But instead, she believed, and bloomed and served where she was planted. How can we do the same?
To Learn More About Elisabetta: The Union of Catholic Apostolate has a lovely biography and other resources on this woman.
To Learn More About Other Women Saints and Blesseds: Come back next week, or consider buying my book, Sisterhood of Saints: Daily Guidance and Inspiration.