The Basics: Born in 1282 in Italy; died February 10, 1346, in Italy; beatified in 1782 by Pius VI; feast day, February 10. Wife, woman religious.
The Story: So how do you not love a woman whose biographer opened the story with, "This is the life of Blessed Clare of Rimini, who was an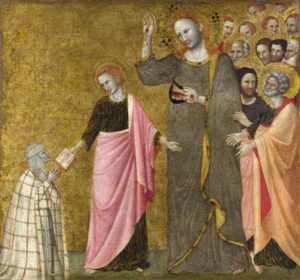 example for all flighty women"?
And frivolous Clare was, in her early years. Born into a wealthy family, Clare's mother died when the child was seven, and her frivolous inclinations were indulged. She was sent into exile when her first husband died, only to see her father and brother executed by political opponents when she returned to her hometown of Rimini. This, however, did not spark a life change; she remarried and went on her merry, less than godly way.
While she was at Mass when she was thirty-four, a voice instructed Clare to pray the Our Father and Hail Mary at least once with passion. The experience caused her to examine her ways. Clare became a lay Franciscan with her husband's agreement; following his death shortly thereafter, she established a convent. When warfare forced a Poor Clares community eight hundred miles away, Clare's influence helped them find a new home in Rimini. Clare went on to join the community and serve as a superior for a time. Her penances were extreme–including sleeping on a hard board–and she saw her gift as trying to dissuade others from the lifestyle she had once led. Her gifts, including prophecy and levitation, resulted in crowds of people coming to visit her.
What We Can Learn from Clare: People can change. If you see someone going down a road that you know from personal experience will lead to heartache, reach out to that person in a compassionate, loving way.
To Learn More About Clare: Check out references to her in Women and Religion in Medieval and Renaissance Italy.
To Learn More About Other Women Saints and Blesseds: Come back next week, or consider buying my book, Sisterhood of Saints: Daily Guidance and Inspiration.