Note: On Tuesdays and some Sundays, you can find me at Your Daily Tripod, owned by my friend TonyD. A longer version of the post below appears there.
The Lord said, "Rise and anoint him; for this is the one." (1 Samuel 16:12, NRSVCE)
He was only a shepherd boy; a good-looking one, to be sure, but a shepherd boy with little else to recommend him. He was the youngest of eight brothers, and couldn't have reasonably expected his lot in life to change much in the coming decades.
Except it did.
The Lord, displeased with King Saul's disobedience, advised the prophet Samuel that He had selected Saul's successor from among Jesse's sons. And it was the last and perhaps least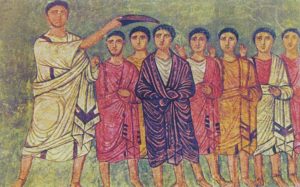 of Jesse's sons, who didn't even come to the big event because he was working, who would be the anointed one.
David would go on to be the second king of Israel and win great battles. He also would sin in large ways—the shepherd boy never did anything by halves—and his sincere, complete penance would always regain him favor in the Lord's eyes.
And what of us? We're "only" mothers, fathers, sisters, brothers, daughters, sons, bosses, worker bees, nuns, priests, bishops, seminarians, whatever other label you like to use. But just as David became with the Lord's anointment more than he was, so do we. And that anointment requires us to never do anything in His name by halves.