Note: On Tuesdays and some Sundays, you can find me at Your Daily Tripod, owned by my friend TonyD. A longer version of the post below appears there.
A shoot shall come out from the stump of Jesse, and a branch shall grow out of his roots. The spirit of the Lord shall rest on him, the spirit of wisdom and understanding, the spirit of counsel and might, the spirit of knowledge and the fear of the Lord. His delight shall be in the fear of the Lord. (Isaiah 11:1-3, NRSVCE)

The New American Bible notes on today's reading from Isaiah 11 talk about the hope for a new king, one who will bring forth the Lord's divine justice and blessing. The prophet was writing in the eighth century BC, a time of much coming and going of leaders, revolts and battles. While the Book of Isaiah, it appears included other admiring authors, it seems the prophet himself wrote most of the first thirty-nine chapters.
In Isaiah, we find a prophet who's focused on the basics: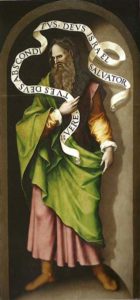 getting people to trust in God, His goodness, and His plans. Indeed, his name means, "God is salvation." And that's what he preached and prayed about… not his despair or joy over who was in power or who was vying for control. Planted firmly in this world, Isaiah's eyes were on what lay beyond it. Where or when or how or which one of Jesse's descendants would come to rule was not the point; what was important to Isaiah is how the Lord's goodness would be brought to the fore through that descendant.
As we dive into the busyness of the season, may we remember that celebrating the beginning of that fulfillment in Jesus's birth is what really matters. May we take a few moments each day to remember that, yes, God is salvation, and our way to the Father is through the Son.