Note: On Tuesdays and some Sundays, you can find me at Your Daily Tripod, owned by my friend TonyD. A longer version of the post below appears there.
Why, it was just yesterday we were all warm and fuzzy with the birth of the Christ child. And today, wham! Here we are, fast-forwarded thirty-plus years, to the stoning of Stephen. Sometimes, you just wish the minds that select the lectionary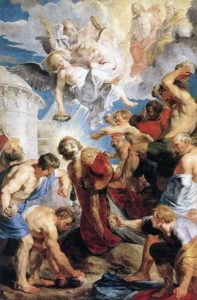 readings could give us all a little down time, don't you?
Except, of course, there really is no down time for Christians. Sabbath, yes. Resting in the Lord, yes. We see that today in Stephen's martyrdom. He is the first of the apostles to be martyred post-resurrection, and he will not be the last. Tradition has it that only John of the original apostles did not die a violent death. And while we may not be stoned or crucified physically, like the apostles, our faith is on trial every day on earth. As Christians, we speak the Lord's truth with compassion and tenderness in our words and our actions. That's often not popular or safe. We risk relationships and worldly wealth and position when we do it.
Yes, babies are beautiful and cuddly and non-threatening. But that's not what the Father desires from us as adults. He desires the same faith and courage that Jesus exhibited throughout his earthly life, especially at the end. He desires that we commend our spirit into His hands, confident that He'll be there to catch it.