The Basics: Born February 6, 1452, in Portugal; died May 12, 1490, in Portugal; beatified in 1693 by Innocent XII. Laywoman; princess.
The Story: Joana spent much of her royal life saying no. The daughter of Portugal's King Afonso V and his first wife, Isabel, Joana was the heir presumptive upon birth because her older brother had died the year before in infancy. While a younger brother, who would go on to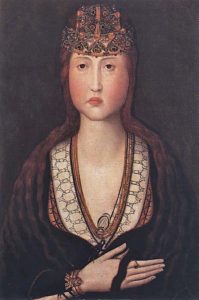 become John II of Portugal, was born three years after Joana, her father was concerned about continuing the line and wanted Joana to marry. She, however, had determined she was best suited for the religious life and steadfastly rejected several proposals.
Even though her father forbade Joana to formally join a congregation of women religious, she first moved to a Benedictine convent, then to the Dominican Convent of Jesus in Aveiro, where she spent most of the rest of her life and where she was buried. However, she obediently returned to her family several times to serve as regent for her nephew, Afonso, born in 1475, when her brother (who had become king in 1481). Sadly, Afonso died at sixteen in a riding accident a year after Joana died.
What We Can Learn from Joana: Sometimes, our yes to God means no to our family and friends, well meaning as they may be. Pray for the strength and faith to follow the Lord's desire for you, as Joana did.
To Learn More About Joana: Visit the site for the Museum of Aveiro, Portugal, which includes items from the Convent of Jesus where Joana lived as well as her tomb.
To Learn More About Other Women Saints and Blesseds: Come back next week, or consider buying my book, Sisterhood of Saints: Daily Guidance and Inspiration.