Note: On Tuesdays and some Sundays, you can find me at Your Daily Tripod, owned by my friend TonyD. A longer version of the post below appears there.
"I have made your name known to those whom you gave me from the world. They were yours, and you gave them to me, and they have kept your word. Now they know that everything you have given me is from you; for the words that you gave to me I have given to them, and they have received them and know in truth that I came from you; and they have believed that you sent me. I am asking on their behalf; I am not asking on behalf of the world, but on behalf of those whom you gave me, because they are yours." (John 17:6-9, NRSVCE)
If his followers hadn't already figured out why it seemed Jesus parried and debated with the self-righteous, they got the answer when His hour had come. The riddles and parables were done. In today's Gospel reading from John, Jesus in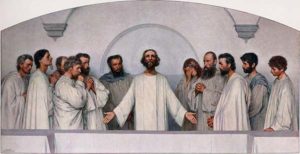 what's known as the high priestly prayer says many things to the Father, including that those who belong to the Son have accepted God's words.
And what of those among the Pharisees and Sadducees and elders and scribes and the crowds who didn't or wouldn't hear or believe what Jesus had to share? Were they not among those "whom you gave me out of the world"? Did they have the opportunity to hear, and chose not to? That's for a more learned person than me to weigh in on. But you have to think the disciples eavesdropping on this conversation with the Father wondered as we do today: To whom do I really belong? Have I kept the Word? Do I truly believe it was God who sent Jesus, not just in a theoretical sense but in a practical way—do I believe it when I am tempted to take the easy way out of situations that could result in harm and ridicule and persecution against me? Because if I truly hear Him, how can I not obey, regardless of the earthly cost?
Jesus, keep praying for me.