The Basics: Born April 2, 1566, in Italy; died May 25, 1607, in Italy; canonized April 28, 1669, by Pope Clement X; feast day, May 25. Women religious; mystic.
The Story: Born into a wealthy family, the child who would become St. Magdalena experienced her first ecstasy at age twelve, and entered a Carmelite monastery near her home two years later.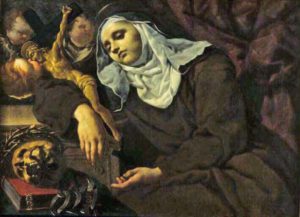 Her life was marked by significant highs and lows; it appears she suffered from anorexia and enjoyed experiencing pain. Magdalena also spent more than five years of spiritual dryness in what she called "the lion's den." Yet her dictations on the spiritual life are regarded as extremely significant, and she continued to interact humbly with her community amid both spiritual drought and raptures.
Magdalena's Wisdom: "I wanted a hidden life but see, God wanted something quite different for me."
What We Can Learn from Magdalena: Holiness doesn't look the same in everyone. While it's important to intervene if someone's worship style becomes personally injurious, the Lord calls us to praise Him in different ways based on the charisms He has given us.
To Learn More About Magdalena: Visit the site for the Florence Carmelite hermitage where her body rests.
To Learn More About Other Women Saints and Blesseds: Come back next week, or consider buying my book, Sisterhood of Saints: Daily Guidance and Inspiration.