Note: On Tuesdays and some Sundays, you can find me at Your Daily Tripod, owned by my friend TonyD. A longer version of the post below appears there.
Now as they went on their way, (Jesus) entered a certain village, where a woman named Martha welcomed him into her home. She had a sister named Mary, who sat at the Lord's feet and listened to what he was saying. But Martha was distracted by her many tasks; so she came to him and asked, "Lord, do you not care that my sister has left me to do all the work by myself? Tell her then to help me." But the Lord answered her, "Martha, Martha, you are worried and distracted by many things; there is need of only one thing. Mary has chosen the better part, which will not be taken away from her." (Luke 10:38-42, NRSVCE)
We Marthas don't spend all our time in kitchens. And we're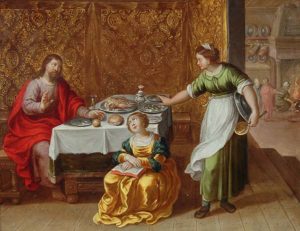 not always women.
You'll find us serving on the campaign trail, in boardrooms, in corner offices, in cubicles, in family rooms, in war rooms, in parish halls, and in community centers. Because, you see, Marthas don't always stay in the background, away from public attention. Some of us thrive on it.
Marthas get frustrated by people who we don't believe are doing their fair share on the new-product launch, in the book club, in the sacristy, with the division of labor at home or at work. And so we complain—to God, to our colleagues, to our friends. It is significant that in today's Gospel reading, Martha didn't call Mary into the kitchen and say, "I'm feeling way overburdened. Can you please put together the appetizer tray or unload the dishwasher?" She didn't give Mary a chance to say yes… or no, for that matter. Instead, Martha went to the guest to publicly shame her sister. That is what Marthas do. Direct conflict scares us.
The Lord has given us all many gifts. He desires that we use them for His glory. May we learn from these sisters that sometimes, doing that means dropping everything for Him. Sometimes, it means asking others for help and accepting that they can't or won't provide it. But it is never pleasing to Him when we judge the worth of others.