My friend Litong started today's Simbang Gabi Mass with a look back. At the parish's first Simbang Gabi Mass twenty-one years ago, he said, some women were pregnant. Today, those babies are in college, married, and in some cases like today, lectoring. I smiled; one of the day's sponsors' children weren't even ten when I started going to the Masses. Her husband had died not long before then. Yet she and the children and her extended family were faithful attendees, her children sometimes needing a stepstool to lector.
Then I saw that a friend who offered gifts to the Simbang Gabi community with much grace and love was in attendance for the first time in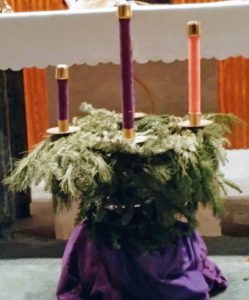 several years. That family's generosity spans generations as well.
Generosity and mercy of another sort were the topic of the Rev. Pascal Kumanda's homily. These days, the Missionhurst priest and Congolese native ministers to those who live on the street. He shared the story of a man he met recently:
"He said, 'Who are you and why are you here? What do you do for a living?'" Father Pascal remembered. "I said, 'What I do for a living is come here and sit with you and talk with you.'" Eventually, he revealed he is a priest, and had to prove it to the man. (Thank goodness he always carries a rosary and a stole, in case someone wants the sacrament of penance and reconcilitation.)
The man then said something to the effect that God didn't love people like him, drug addicts. Father Pascal gently said that while the Lord desires us not to abuse our bodies, "God is present here, to listen to us." They both cried, he said. The man never asked Father Pascal for money or even for food, but seems to have accepted the Lord's mercy. And of course, because that's the way these things happened, the next song we sang was my favorite of our Simbang Gabi songs, co-written by my friend Jandi Arboleda, which closes with the words: "Lord, teach me to open my arms to others; teach me to serve you to give to those in need, who do not expect anything of You."
Nor was it a surprise at the end of Mass when one of those generational children, now all but grown, forgot how to start the novena prayer, the entire congregation joined in as one to help.