Note: On Tuesdays and some Sundays, you can find me at Your Daily Tripod, owned by my friend TonyD. A longer version of the post below appears there.
He asked for it. He got it. He got scared. He got saved.
In today's lectionary Gospel reading from Matthew 14, the disciples are terrified at the sight of a figure—could it be a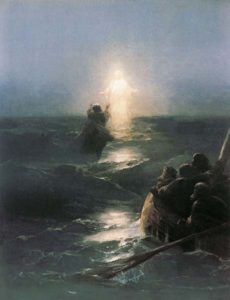 ghost?—coming toward them, walking on the water. Jesus tells them it's Him and not to be afraid. Peter—it is always Peter, isn't it, who rushes in where others fear to tread when it comes talking with Jesus?—says if it's you, then tell me to come to you on the water.
Jesus gives him a single word of command—"come." Not, "come on, Peter, I will hold you up on the water regardless of how choppy the waters are or how strange this all may seem to you." Just "come." And Peter does, and for a few moments, it's all glorious. But the wind comes up, and he is sure he's going to go under. He calls for the Lord to save him. And rather than saying, "Tsk-tsk, Peter, don't you remember what I said?" (that will come shortly), Jesus does just that, extending his hand.
This is truly one of the most human, most beautiful stories in the Gospels, and we sell Peter short and ourselves long when we laugh at the reaction of the man who will go on to be Jesus's rock. Because, you see, we are Peter. Our own prayers for trust and closeness to the Lord are answered all the time… and then we are tempted to give up the second the wind gets strong, rationalizing that we must not have understood what He wanted after all.
May we learn from Peter: When we ask for it and get it and get scared, may we not abandon the call. Like Peter, may we call out, "Lord, save me!"