The Basics: Born in the late third century in Spain; died circa 287 in Spain; canonized precongregation; feast day, July 19. Sisters, businesswomen, martyrs.
The Story: These sisters, in their late teens or early twenties, had a pottery-making business. They were even more passionate about their faith than about their work (they donated a share of the proceeds to the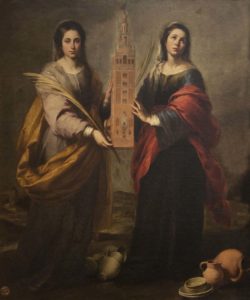 poor of Seville), and that would lead to their martyrdom. Justa and Rufina refused to sell their wares for pagan ceremonies, and their inventory was destroyed as a result. In response, the women ruined an image of the pagan goddess Venus. Called out as Christians, they were tortured and Justa was put to death. Authorities thought that would lead to Rufina's renunciation of her faith, but it did not, and she also was martyred.
What We Can Learn from Justa and Rufina: There's a time to turn the other cheek, and there's a time to stand up for what we believe, even if it results in persecution against us. Pray for the wisdom to stand firm for the Lord when those situations arise in your life.
To Learn More About Justa and Rufina: View the beautiful altarpiece for these two martyrs at Seville's Church of the Savior.
To Learn More About Other Women Saints and Blesseds: Come back next week, or consider buying my book, Sisterhood of Saints: Daily Guidance and Inspiration.