The Basics: Born in England; died 988 in England; canonized precongregation; feast day, September 9. Mother and woman religious.
The Story: Wulfrida, also known as Wulfthryth, was living at Wilton Abbey when King Edgar took her away to his palace. She was not a nun at the time; the thinking is that Wulfrida, who came from a wealthy family, may have been a student at the abbey or something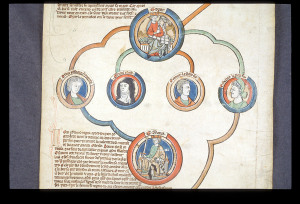 similar to a novice or postulant, and likely was not taken against her will. However, Edgar already had a wife (and would go on to a third significant relationship as well). Wulfrida became pregnant and, sometime after their daughter, Edith, was born in 962, returned to the abbey with the baby.
Wulfrida eventually became the abbess, and appears to have maintained a friendship with the king. Edith became a nun as well, and was well regarded for her intellect (and her taste in clothes). Edith died four years before Wulfrida, and the mother was tireless in her efforts to encourage veneration of Edith, who also is regarded as a saint.
What We Can Learn from Wulfrida: Being a single parent wasn't easy in the 10th century and it's not easy today, with or without support from the child's other parent. Offer to babysit for a single mom or dad this week so he or she can have a couple hours to breathe.
To Learn More About Wulfrida: Read more about the abbey and this family at the original Catholic Encyclopedia. 
To Learn More About Other Women Saints and Blesseds: Come back next week, or consider buying my books, Blessed Are You: Finding Inspiration from Our Sisters in Faith or Sisterhood of Saints: Daily Guidance and Inspiration.