The Basics: Born about 961 in England; died September 16, 984, in England; canonized pre-congregation; feast day, September 16; woman religious.
The Story: She lived inside the walls of Wilton Abbey nearly all her life, but Edith's twenty-three years still intrigue us. Her father, King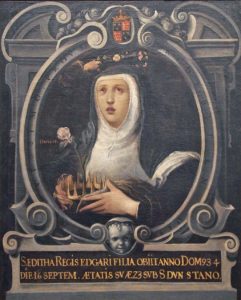 Edgar, carried off her mother, Wulfrida, from the abbey under circumstances that are less than clear. Wulfrida returned with Edith after a year, but reportedly was on good terms with Edgar, who later offered to set up Edith in three different abbeys (Edith refused each time). Some say she also was asked to become queen after a half-brother died, but refused that as well.
Edith was, we might say, a less than traditional nun, even after her mother became the Wilton abbess. Edith kept a zoo of wild and domesticated animals next to the abbey. She liked to paint, and was known as a woman who dressed well, even as a nun. She was quick with a retort when she was criticized for her finery.
The story of Edith's life as the sisters in her community saw it was recorded by a monk named Goscelin, and is still available today. There also are a number of stories about related miracles after her death.
Edith's Wisdom: "For pride may exist under the garb of wretchedness; and a mind may be as pure under these vestments as under your tattered furs."
What We Can Learn from Edith: When we listen to God and surrender to His plans, we will have the wisdom to discern whether tempting offers are His will, and the faith to say no when they are not.
To Learn More About Edith: Read the abstract for a translation of Goscelin's Writing the Wilton Women.
To Learn More About Other Women Saints and Blesseds: Come back next week, or consider buying my book, Sisterhood of Saints: Daily Guidance and Inspiration.