The Basics: Born  September 8, 1863, in Germany; died June 8, 1899, in Portugal; beatified November 1, 1975; feast day, June 8. Woman religious; mystic.
The Story: Her early life was a mix of seeming contradictions. Maria Droste zu Vischering was born along with a twin brother into a wealthy noble family. Her health was a matter of grave concern, so she was baptized almost immediately. Maria would struggle with health issues all of her short life, but this did not prevent her from gaining a reputation as a bit of a spitfire and a tomboy who enjoyed getting her clothes dirty. This likely made her a challenge not only for her parents and her six siblings, but also for the governesses who schooled her.
Her strong will would serve her throughout her life. At twenty-five, she joined the congregation of Our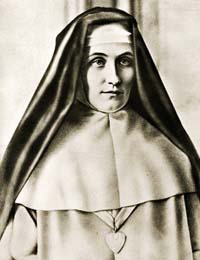 Lady of Charity of the Good Shepherd, where she excelled at ministering to even the most recalcitrant of the girls entrusted to the sisters' care. Known in religious life as Mary of the Divine Heart, she moved from Germany to Portugal after five years as a sister, and became the superior in the mother house in Porto.
Mary received a number of messages from Jesus Christ, including messages calling for the pope to consecrate the entire world to Jesus's Sacred Heart. While Leo XIII was doubtful at first, Mary's persistence ultimately succeeded, and Leo issued a decree for the consecration to take place on June 11, 1899. Mary died just three days earlier at the age of thirty-five.
What We Can Learn from Mary: The Lord equips us with the strength to do the work He desires, regardless of our human flaws. We just have to believe, and persevere.
Mary's Wisdom: "Without the spirit of sacrifice the love of the Heart of Jesus is merely an illusion."
To Learn More About Mary: Check out her biography at her congregation's site.
To Learn More About Other Women Saints and Blesseds: Come back next week, or consider buying my book, Sisterhood of Saints: Daily Guidance and Inspiration.