The Basics: Born May 29, 1427, in France; died November 4, 1485, in France; beatified July 16, 1863, by Pius IX; feast day, November 4; wife; ruler; woman religious.
The Story: Like so many others who have been canonized or beatified, Francoise by all accounts was a beautiful, pleasant child. She was born into a noble family and was betrothed by the age of three. Upheaval during the Hundred Years' War meant she was sent to live at a very young age at the court of Brittany, where her future husband lived. His mother took an especial interest in Francoise and helped guide the child's religious formation and service.
Francoise' marriage took place when she was fifteen, and eight years later, her husband became Pierre II, duke of Brittany and Francoise the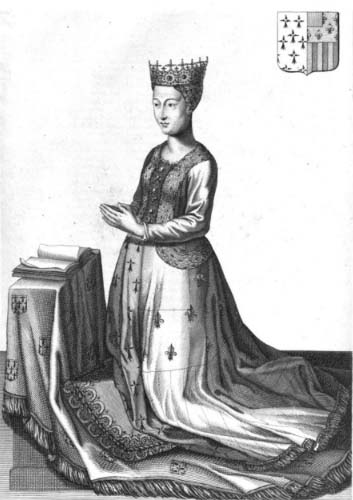 duchess of Brittany. Indeed, she would come to be known as "the good duchess" for her works and generosity among the poor and sick. At home, while the marriage had challenges in the early days, Pierre grew to appreciate his wife's gifts and sought to follow her example.
After Pierre's death in 1457, Francoise was pressured to remarry. She spurned all interests, including from her cousin, Louis XI of France. She went on to co-found France's first Carmelite monastery in 1463 and became a woman religious herself five years later. While her inital tasks included the infirmary, Francoise was selected as "prioress for life" in 1473, and indeed served in that position until her death twelve years later.
What We Can Learn from Francoise: We can inspire others, as Francoise did with Pierre, to live a life of Christian charity, not just call ourselves Christians. Actions speak louder than words in all kinds of evangelization.
Francoise's Wisdom: "In everything, do that which will make God loved the more!"
To Learn More About Francoise: Visit the site for the French Carmelite community and read her biography.
To Learn More About Other Women Saints and Blesseds: Come back next week, or consider buying my book, Sisterhood of Saints: Daily Guidance and Inspiration.