Note: I'm currently featuring women saints who had notable relationships with male saints–their sons, husbands, fathers, or colleagues in faith.
The Basics: Maria, born June 24, 1884, in Italy; died August 26, 1965, in Italy; Luigi, born January 12, 1880, in Italy; died November 9, 1951, in Italy. Beatified October 21, 2001, by John Paul II; feast day, November 25. Maria: wife, mother, writer, nurse; Luigi: husband, father, attorney.
The Story: It seems like an ordinary story, and that perhaps is what makes it so extraordinary. Maria and Luigi's families were friends, and so it was natural that they would fall in love and marry. It was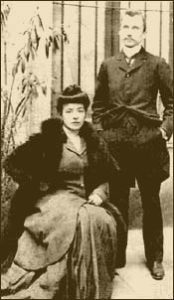 November 25, 1905 (and the date was selected as their feast day when they were beatified). Children followed quickly–Filippo before their first anniversary, and Stefania on the way less than a year after that. Luigi traveled often for work and at one point, Maria wrote him: "Who will give me the strength to think of two children? … Believe me, I am truly in despair." Buoyed by faith, Maria's spirits recovered (and their third child, Cesar, was born in November 1909). The youngest, Enrichetta, was born in April 1914 after a difficult pregnancy the Quattrocchis had been advised to terminate. (One son became a diocesan priest, the other a monk; one daughter had a vocation as a Benedictine sister while the other cared for her parents.)
Maria was tireless, writing and speaking and, with Luigi, involved in many philanthropic causes such as Catholic scouts and Catholic Action. Maria supported the establishment of the Catholic University of the Sacred Heart and served on the Italian Catholic Women's Association General Council. The family prayed the rosary together each evening… and also found time for sports and vacations, especially in their beloved second home in the country. mountains. Filippo once said: "I remember a 'noisy joy' in the house, with no religious excesses—or boredom. … Ours was a normal family that sought to live its relationships on a plane of high spirituality."
In 2001, with three of their four children present, the Quattrocchis became the first couple to be beatified together.
Maria's Wisdom on Parenting: "Since the birth of our first son, we began dedicating ourselves to the children, forgetting ourselves. … We both felt tremendous responsibility in front of God, who had entrusted the children to our care, and in front of our country that expected loving citizens."
What We Can Learn from Maria and Luigi: Is your life ordinary? Good for you! Now, like Maria and Luigi, live it faithfully and intentionally, for we all are called to holiness.
To Learn More About Maria and Luigi: Visit the site for the Maria and Luigi Association, established at the wishes of their children to support "the human and spiritual journey of love," with particular emphasis on married couples.
To Learn More About Other Women Saints and Blesseds: Come back next week, or consider buying my book, Sisterhood of Saints: Daily Guidance and Inspiration.