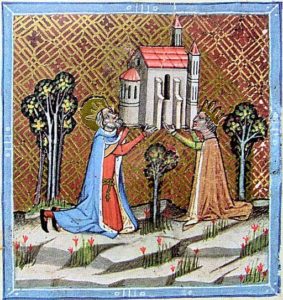 Note: I'm currently featuring women saints who had notable relationships with male saints–their sons, husbands, fathers, or colleagues in faith.
The Basics: Gisela, born about 985 in Germany; died May 7, 1060, in Germany; beatified in 1975 by Paul VI; feast days, May 7 and February 1. Wife, mother, queen, and abbess. Stephen, born about 975 in Hungary; died August 15, 1038, in Hungary; canonized August 20, 1083, by Gregory VII; feast day, August 16. Husband, father, and king.
The Story: They were a power couple from an early age. Gisela and Stephen were married as part of a political alliance when she was only eleven or so. Gisela's brother later became the Emperor Henry II (recognized as a saint along with his wife, Cunegund.) Interest in them continues today; recently, a musical told the story of their wedding.
The year after marrying Gisela, Stephen became the ruler of Hungary, and together they spurred the adoption of Christianity in the country, organizing dioceses, founding abbeys and monasteries and so on. The span of his authority broadened as time went on. The couple also became known for their charitable works and their protection of Christians who desired to practice their faith.
Only one of the couple's children, Emeric, survived to adulthood. He was to become co-regent when he was in his late twenties or early thirties, but died in a hunting accident. Stephen died seven years later, in 1038. Pagan princes seized Gisela upon his death due to some intrigue about succession, and for a time she was imprisoned. Eventually, she and other Bavarians who had come to Hungary were allowed to return to Germany. Gisela entered a Benedictine convent, and served as abbess for a time before her death.
What We Can Learn from Gisela and Stephen: We must always rely on the Lord. As rulers, Gisela and Stephen honored God's desires and spurred the growth of Christianity in their country. When her own future was uncertain, she continued to rely on Him.
To Learn More About Gisela and Stephen: Read Gisela's biography in Istvan Dios' The Life of Saints and visit the site for St. Stephen's Basilica in Budapest, where Stephen's right hand and one of Gisela's bones are housed.
To Learn More About Other Women Saints and Blesseds: Come back next week, or consider buying my book, Sisterhood of Saints: Daily Guidance and Inspiration.