Note: On Tuesdays and some Sundays, you can find me at Your Daily Tripod, owned by my friend TonyD. A longer version of the post below appears there.
James nails it in today's first lectionary reading: "But one is tempted by one's own desire, being lured and enticed by it." (James 1:14, NRSVCE)
There's no point in us coming up with a form of Adam and Eve's excuse that someone or something made them stray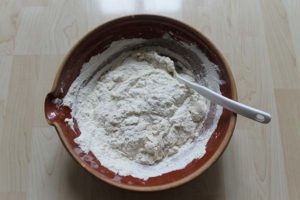 from the Lord's path. They made that decision for themselves. And so do we.
Yes, the evil one can offer us some shiny objects and glittering promises in his efforts to snare our souls. He did that to Jesus, you'll remember. But shiny and glittering isn't always the way to get inside of us; desire also has a dark side. The evil one knows that, and for those of us who struggle with believing the Lord loves us and cares for us, Satan is perfectly happy to frame his pitch that way too. He tells us we're just not worth it and we are fools to believe in the One who believes in us.
Like the disciples in that boat in Mark 8:14-15 from today's Gospel reading, we've only got one loaf of bread, only one Bread of Life. As we prepare for Lent, may we strap on our interior spiritual armor and resolve to let those temptations die within us and to hold on to that loaf for dear life.