A couple of years ago, several of my friends were talking about this great trilogy they'd read when they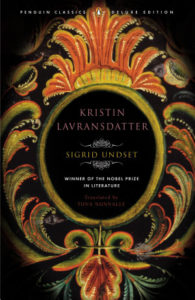 were younger, Kristin Lavransdatter by Sigrud Undset. The novels are about Kristin's spiritual and physical journey from childhood to death, set in 14th century Norway and published in the 1920s.
I have to confess I yawned a bit at the discussion. When I think of the 14th century, I think of Catherine of Siena and Italy. When I think of writers of the 1920s, I think of Hemingway and Fitzgerald.
But I finally decided to give the trilogy a try, and I'm so glad I did. The characters are compelling, the plot still relevant today. It came as no surprise to me that Undset in 1928 became only the third woman ever to win the Nobel Prize for literature. I'm about halfway through the second book, and will be sorry to say goodbye to Kristin and her family later this month. Give her a try!