Note: On Tuesdays and some Sundays, you can find me at Your Daily Tripod, owned by my friend TonyD. A longer version of the post below appears there.
And the Lord said to Moses, "Make a poisonous serpent, and set it on a pole; and everyone who is bitten shall look at it and live." So Moses made a serpent of bronze, and put it upon a pole; and whenever a serpent bit someone, that person would look at the serpent of bronze and live. (Numbers 21:8-9, NRSVCE)
They didn't trust him. That's what it came down to. The Israelites were tired, thirsty and hungry. They may have been slaves in Egypt, but in that moment, the wilderness seemed a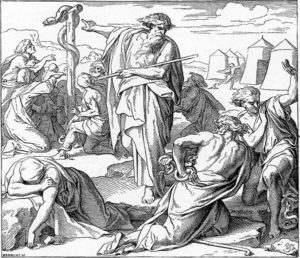 lot worse than anything they had endured in captivity. And so they complained—against God and Moses. It took the bite of venomous snakes for them to realize they'd never been left alone in the wilderness. The Lord used a tangible reminder—that bronze serpent on a pole—to remind them of His greatness, and of His love, as those who looked upon the reminder recovered.
In the same way, Jesus reminds the people in today's Gospel reading from John that the Lord does not leave us alone, all appearances to the contrary, if we do what pleases Him. Soon, we will see in the daily readings Jesus's own response when it appeared to all reasonable people the Father had abandoned him in the wilderness. The Father hasn't abandoned us either. All we need do is trust and have faith… look upon the Cross… and live.