Note: On Tuesdays and some Sundays, you can find me at Your Daily Tripod, owned by my friend TonyD. A longer version of the post below appears there.
(The mother of James and John said to Jesus,) "Declare that these two sons of mine will sit, one at your right hand and one at your left, in your kingdom. (Matthew 20:21, NRSVCE)
Oh, that wife of Zebedee. How she advocated for her sons.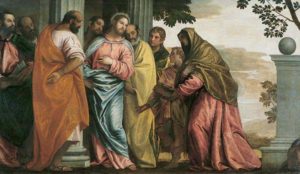 How sure she was that they were entitled to sit at Jesus's right and left hands in His kingdom, whatever that kingdom might look like. Because, you see, they were her sons. They deserved nothing but the best that Jesus had to offer, something a little better than what the others were going to get.
One wonders about the unrecorded reactions of James and John. Were they amused by Mom's politicking? Did it please them? Did they count on her to say what they felt they could not? At some level, one has to think they were embarrassed by her campaigning on their behalf.
Jesus draws the group up short by explaining what being great means. It is the antithesis of what James' and John's mother has in mind. Rather than being acclaimed and admired, greatness in the Kingdom means service. It means putting oneself last, not first. It means self-sacrifice and emptying ourselves of ego and pride. It means putting the get-ahead, competitive parts to death—so that we may help others live. True greatness, Jesus tells us, isn't about sitting at the right and left hand. It's about using our own hands to help others find their way to Him.