Note: On Tuesdays and some Sundays, you can find me at Your Daily Tripod, owned by my friend TonyD. A longer version of the post below appears there.
Peter began to say to him, "Look, we have left  everything and followed you." Jesus said, "Truly I tell you, there is no one who has left house or brothers or sisters or mother or father or children or fields, for my sake and for the sake of the good news, who will not receive a hundredfold now in this age—houses, brothers and sisters, mothers and children, and fields, with persecutions—and in the age to come eternal life." (Mark 10:28-30, NRSVCE)
The sacrifice must have seemed great indeed to Peter. He had abandoned his fishing business, and it may be that his wife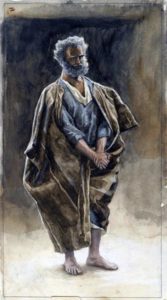 and family were less than supportive of the time he was spending with this Jesus who wandered about their countryside, challenging the pronouncements of authorities and talking in what sometimes seemed to be riddles. Peter and the some of the others had sacrificed their standing in the community, the respect of some of their neighbors, and not a little of their own pride, self-reliance, and disbelief.
The reward? It must have seemed unclear, other than that stirring in the disciples' souls that they were being called to follow. While today's Gospel reading is challenging, it is also comforting. If we follow, we will be rewarded, rewarded eternally in ways we cannot even imagine. We don't have to walk away from people or possessions entirely. We do have to love the Lord first, last and always, and ensure that the people and things we love don't get in the way of that.