Note: On Tuesdays and some Sundays, you can find me at Your Daily Tripod, owned by my friend TonyD. A longer version of the post below appears there.
Today's lectionary readings present us with a pair of grieving fathers. In the first reading from 2 Samuel, King David's beloved son Absalom dies not in battle, but in a bizarre set of circumstances after the victory has been won. The mood of the king and the army changes from celebration to grief. There is no hope for a miracle.
In the Gospel reading from Mark, we see Jairus, a synagogue official. His young daughter is dying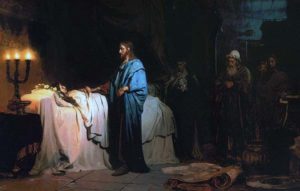 when he approaches Jesus; while Jesus is speaking with the woman whose hemorrhaging has been cured by touching his robe, Jairus' servants arrive. The little girl has died; there is nothing left to be done. There is no hope for a miracle.
Except one happens. Jesus goes to Jairus' home, touches the girl, bids her to rise, and all is well again.
And what do these stories have to do with our lives? Quite a bit, actually. In times of tragedy and uncertainty, there's certainly nothing wrong with some grieving and mourning. It's a natural, generally healthy way to cope with and process our losses. But at some point, the Lord calls us to believe in a miracle… and to get up and walk.  May we be receptive to His healing balm when it is offered.