Note: On Tuesdays and some Sundays, you can find me at Your Daily Tripod, owned by my friend TonyD. A longer version of the post below appears there.
Jesus was in midst of his public ministry when the scene from Luke 7:11-17 unfolds. He's fresh from Capernaum, where he healed the centurion's slave without touching or seeing him, and a large crowd has accompanied him to Nain. It's easy to imagine a joyful, somewhat festive atmosphere.
And then, they encounter another crowd. A widow's only son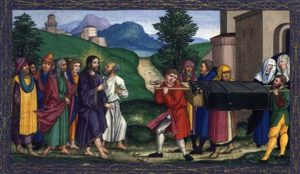 has died, and is being carried out. We are told Jesus is moved with pity, touches the coffin, and instructs the son to arise. And. He. Does.
It will be less than three years before a large crowd accompanies Jesus into another city, a city where the only son of a widow will die. This time, the crowd that is with the widow as the son is being carried out to his tomb will be not be large by anyone's estimation. But what happens to him just a few days later will change the world forever. It will start a revolution—and give the world hope.