The Basics: Born May 16, 1834, France; died June 7, 1889, in France; beatified October 20, 1946, by Pius XII; feast day, June 7. Woman religious.
The Story: From an early age, the girl who would become known as Marie-Therese Soubiran knew God came first in her life. What she could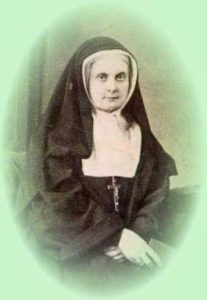 not have known was for how many years He would be her only source of comfort and support.
As a youngster, Marie-Therese desired to be an Carmelite nun, but when she was twenty, she chose instead to live as a beguine in Belgium (a semi-monastic lay community).  After a year, Marie-Therese discerned that instead she was being called to begin a community to help France's poor, in particular young women. The effort took several years to gel, but ultimately took shape as the Congregation of Mary Help of Christians.
Trouble began in 1869, the year after the community was authorized, with the profession of a new sister, who claimed to be a widow. Marie-Therese went to London for a time due to the Franco-Prussian War, and when she returned, she found herself accused of financial mismanagement by the new sister. As a result, Marie-Therese was forced to leave the community. It took a few years for her to find a community that would accept her; to support herself in the meantime, she took in embroidery. Finally, she was accepted by the Paris monastery of Our Lady of Charity in 1874, where she took vows three years later under the name Marie of the Sacred Heart.
Her health, never strong, continued to fail and Marie-Therese died in 1889. Two years later, a new Mary Help of Christians superior examined the allegations. Marie-Therese's nemesis had fled the convent, and her husband had come looking for her. As a result of the examination, the founder's reputation was restored.
Marie-Therese's Wisdom: "Now, in the oblivion, inactivity, the most complete nullity, I shall be passionate about Our Lord Himself."
What We Can Learn from Marie-Therese: People will betray us and abandon us. The Lord never will. Consider praying with Marie-Therese about a situation in which you feel alone and friendless.
To Learn More About Marie-Therese: Read her biography at the Mary Help of Christians site.
To Learn More About Other Women Saints and Blesseds: Come back next week, or consider buying my book, Sisterhood of Saints: Daily Guidance and Inspiration.