The Basics: Born in the first century in Israel; died in the first century in Israel; canonized pre-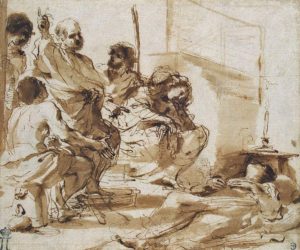 congregation; feast day, October 25. Laywoman.
The Story: It is a moving story that unfolds in Acts 9:36-42. Tabitha (or Dorcas), who is "completely occupied with good deeds and almsgiving," dies. Peter is preaching nearby and is summoned. He commands her to rise… and she does.
Luke doesn't tell us what Tabitha did after this new life comes to her. One wonders, however, if perhaps she simply continued the work she had already begun, helping others financially and in service. Perhaps that is the best kind of second chance we can be given, the opportunity to continue to serve in ways we love.
What We Can Learn from Tabitha: Each day is a rebirth, an opportunity to grow closer to the Lord. What will you do today to celebrate that?
To Learn More About Tabitha: Re-read Acts 9:36-42 as part of your prayer time today.
To Learn More About Other Women Saints and Blesseds: Come back next week, or consider buying my book, Sisterhood of Saints: Daily Guidance and Inspiration.