Note: On Tuesdays and some Sundays, you can find me at Your Daily Tripod, owned by my friend TonyD. A longer version of the post below appears there.
There simply wasn't enough for all of them. That had become apparent from the quarreling among their shepherds. What to do? Go to war? Abram and Lot were kinsman, after all, uncle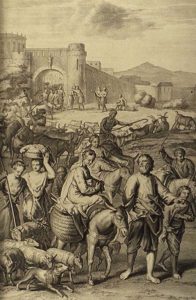 and nephew. But God had given the Promised Land to Abram. He was under no heavenly requirement to give up any of it.
And yet, Abram did just that, giving his younger, rich nephew first choice of the land and trusting in the Lord that whatever Lot chose, Abram's people would be taken care of.
Lot looked out on the Jordan Plain and claimed it. There was water; it seemed the smart move, and Lot didn't need God to tell him that. It would not be the last time Lot would or his people would ignore the Lord at their own peril.
Like Abram and Lot and all who have gone before us, we live in a time that there doesn't seem to be enough—enough listening, enough respect, enough love. When the time comes to disassociate ourselves from others, may we do so with the same faith and generosity that Abram did.