Note: On Tuesdays and some Sundays, you can find me at Your Daily Tripod, owned by my friend TonyD. A longer version of the post below appears there.
The devout and charitable Tobit had been blinded by a bizarre set of circumstances, including poor medical care. Everyone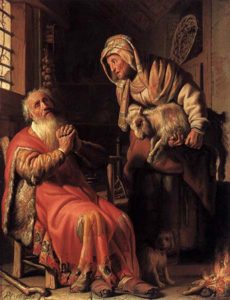 felt horrible about all this, including Tobit, and he and his wife, Anna, fell on hard times. To help, Anna took in weaving, Anna kept at her weaving, doing such a beautiful job that one customer not only paid her but gave her a young goat in appreciation.
Now, given all that had happened, one might have thought that when Tobit heard the goat bleat, he would rejoice—finally, some good fortune! But instead, he berates her, accusing her of thievery. Anna gives it back to her husband just as forcefully, saying the incident has shown his true character, not virtuous soul he's displayed to the world. Convicted, Tobit then asks the Lord for mercy and prays for death.
It's easy for all of us to appear devout and charitable when things are going well—our relationships, our health, our ministries, our jobs. It's when the challenging times come—the bad diagnosis, the end of a marriage or friendship, the loss of money or stature—that we get cranky and suspicious and become blind to the goodness the Lord is providing even amid struggle. We accuse the very people God has sent to help us.
May we learn from Tobit to repent… and to trust, no matter how dark the world appears.