The Basics: Born in 1268 in Italy; died in 1317 in Italy; canonized in 1725 by Benedict XIII; feast day, April 20. Woman religious; mystic.
The Story: Agnes was drawn to a special relationship with Jesus and His Mother from an early age. Even though her wealthy family initially opposed her desire to join a religious community known as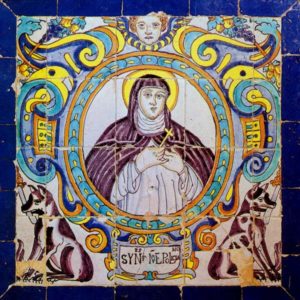 Sisters of the Sack (because of their unglamorous habit) at the tender age of nine, they eventually agreed to her plan. Agnes proved gifted at administration as well as devoted to the Lord; she was sent to help establish a nearby convent at fourteen, and became the abbess at age fifteen. She would stay in that position for twenty years.
Agnes' mystic encounters included the Blessed Virgin Mary allowing her to hold the baby Jesus, and giving her three stones representing the Holy Trinity. The Holy Mother said Agnes would use them to build a convent.
In about 1306, the people of Montepulciano asked her to come back home and establish a new convent. Agnes agreed, using the three stones she had received. (While Agnes had previously belonged to Franciscan communities, this one was established as a Dominican congregation.) Agnes skillfully gathered the financial support she needed to build the convent and Santa Maria Novella church. During this period, she also was known as a peacemaker among opposing factions in Montepulciano.
Agnes' Wisdom: (To her community as she was dying:) "You will discover that I have not abandoned you. You will possess me forever."
What We Can Learn from Agnes: It's important to honor others when they have a clear message from the Lord. Certainly, Agnes' family was right to question her vocation at such a young age, but ultimately, they trusted. May we do the same in cases where we don't understand how others are called to serve.
To Learn More About Agnes: Visit Sant'Agnese church in Montepulciano, built on the same site where the Santa Maria Novella church Agnes established was located.
To Learn More About Other Women Saints and Blesseds: Come back next week, or consider buying my book, Sisterhood of Saints: Daily Guidance and Inspiration.