Welcome, friend.
I'm Melanie Rigney, and I'm happy you found your way here.
My ministry, Rejoice! Be Glad!, is all about just that — rejoicing in the Lord. The way I'm called to help folks do that is through sharing the stories of the Catholic women saints, and how their lives can inform our spiritual journeys today.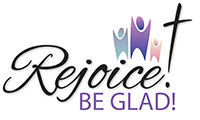 I'm the author of two saints-related books: Blessed Are You: Finding Inspiration from Our Sisters in Faith, which explores the stories of thirty-two women and how they can help us live the Beatitudes, and Sisterhood of Saints: Daily Guidance and Inspiration, a page-a-day devotional about women saints and their relevance to today's busy lives today.
And speaking of busy lives, I'm one of the organizers for this October's Future with Hope Women's Conference for Catholic women over 40. Please check out our website for more information.